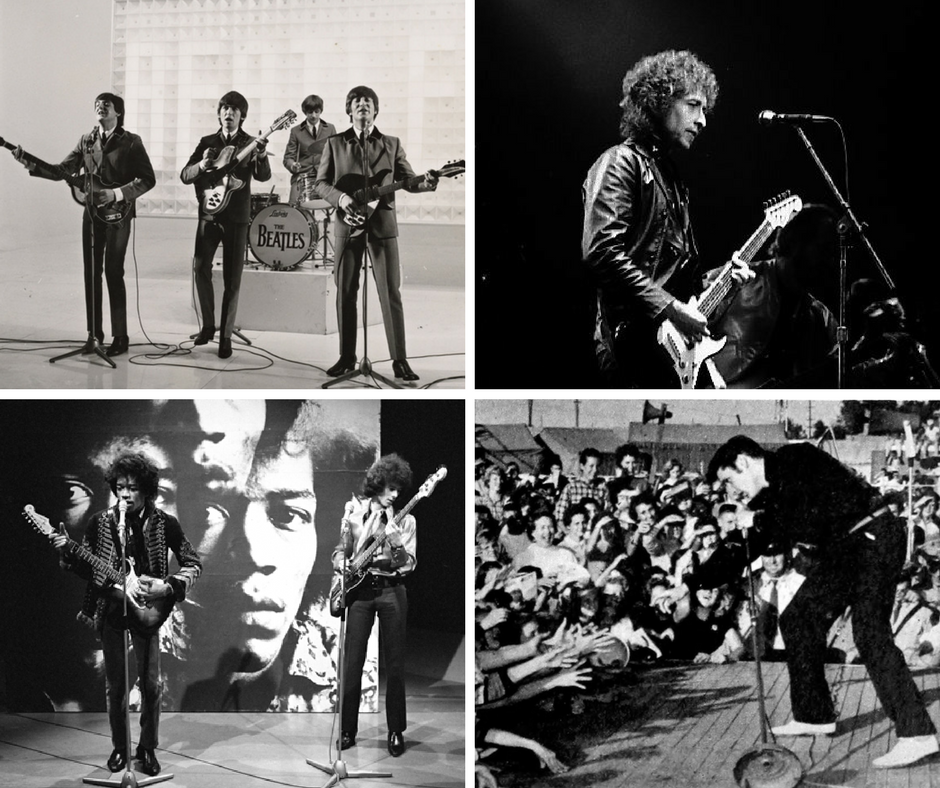 Hearing the Beatles for the first time when Dad pops a cassette into a car stereo.
Listening to Mom play a Neil Young song on her guitar.
Watching Chuck Berry do the duck walk on the Johnny Carson show.
For Austin musicians Marshall Hood, John Michael Schoepf and Jesse Dayton, these were the moments that inspired them to say, "I want to do that!"
In Seduced by Sound: Austin, we ask some of Austin's best artists to talk about those moments. We also wanted to know which music legends have had the most influence on our city's musicians – who has shaped the sound of Austin?
You can see the variety of the influences – from Johnny Cash to Prince to Stephane Grappelli to Brian Eno – in Austin's eclectic music scene. But there are some artists whose names appear again and again. When we tallied them up, we have to admit the results weren't all that surprising.
The Beatles are by far the most influential, followed by Dylan, Hendrix and Elvis. (We'll list the next six most influential artists in part two of this post.)
What's interesting is how personal the connections are for musicians. They might not sound like their influences now, but they see themselves as students of the great teachers. Some have studied every note and the structure of every line in great songs. Some just feel inspired to write their own songs when they listen.
Listening to musicians talk about their most important influences offers some of our favorite "music lessons" from Seduced by Sound: Austin. Here they are in order.
#1: THE BEATLES
"I think the quality, the uniqueness of that music gave me an incredible understanding of real and true quality in music during my formative years."
—George Reiff
"My dad bought a Beatles cassette tape, Past Masters, Volume One, when he got a car that had a cassette tape player in it. Of course I'd heard music before then, but nothing that had any impact on me. When I heard them I instantly became just enamored with their music. When I heard them, I wanted to do that."
—Marshall Hood (Warren Hood Band, Toni Price)
"They showed me a path to turn sadness and other negative feelings into joy and creativity in music."
—Freddie Steady Krc
#2: BOB DYLAN
"I'd say it's pretty obvious and true that Bob Dylan made me want to write. I've been trying to write a better song than Dylan since I was 15."
—Charles Ben Russell (Cartright)
"I admire Bob Dylan for being able to get blood out of a stone, where the stone is an idiom or cliché. He finds its essence and turns it back into truth."
—Steven Collins (Deadman)
"I followed Bob Dylan all through his early years via Folkways magazine and owned his first few albums, which actually got me into a little bit of trouble. When I was told by my junior high school to cut my hair or don't come back, I said to myself, 'What would Bob Dylan do in this situation?' So I told 'em to go pound sand and ended up in a juvenile home — not the smartest move on my part. Of course, Bob's later advice was, 'Don't follow leaders. Watch your parking meters.' But I didn't know that then."
—James Williamson (The Stooges)
# 3: JIMI HENDRIX
"Junior Brown once told me while we were working on a Ray Price record, 'Never trust an electric guitar player who didn't go through a Hendrix phase, unless he started playing before Hendrix came out.' "
—Jesse Dayton, from a tribute to Stevie Ray Vaughan
# 4: ELVIS
"The first record that really moved me when I was a kid was Elvis Presley's version of Bill Monroe's song 'Blue Moon of Kentucky.' It still sounds great today, and the vocals are bathed in that Sun Records echo. It's easy to forget how influential Elvis was, but the sound of that record bouncing off the walls of our house back in 1958-59 was unforgettable."
—Barfield the Tyrant of Texas Funk
You'll find quotes about the next most influential artists or bands in part 2 of this post.
A WAY TO SAY THANK YOU
Because Weeva projects are also about gratitude, we wanted to give Austin musicians a way to thank the top muses by writing notes in copies of the book. We're sending those books to the ones who are still with us, including Paul McCartney, Neil Young, Little Richard, Chuck Berry and others. We hope to let these great artists know just how influential they are on a personal level. It's a way for us to collectively thank them for inspiring the sounds of Austin.
WANT MORE STORIES?
Get your book now at SeducedbySound.com. If you want to know more about Weeva's custom books, check out Weeva.com.
PHOTO CREDITS
All photos used above are public domain or licensed according to Wikimedia Commons, except for the Beatles photo, which is public domain from the New York Public Library's Digital Collections.
The Beatles, publicity still from "A Hard Day's Night," 1964. Billy Rose Theatre Division, The New York Public Library.
Bob Dylan, Toronto, 1980. Photo by Jean-Luc Ourlin.
Jimi Hendrix and Noel Redding, from Dutch television show Fenklup, 1967.
Elvis Presley, Mississippi-Alabama Fairgrounds in Tupelo, Mississippi, 1956.