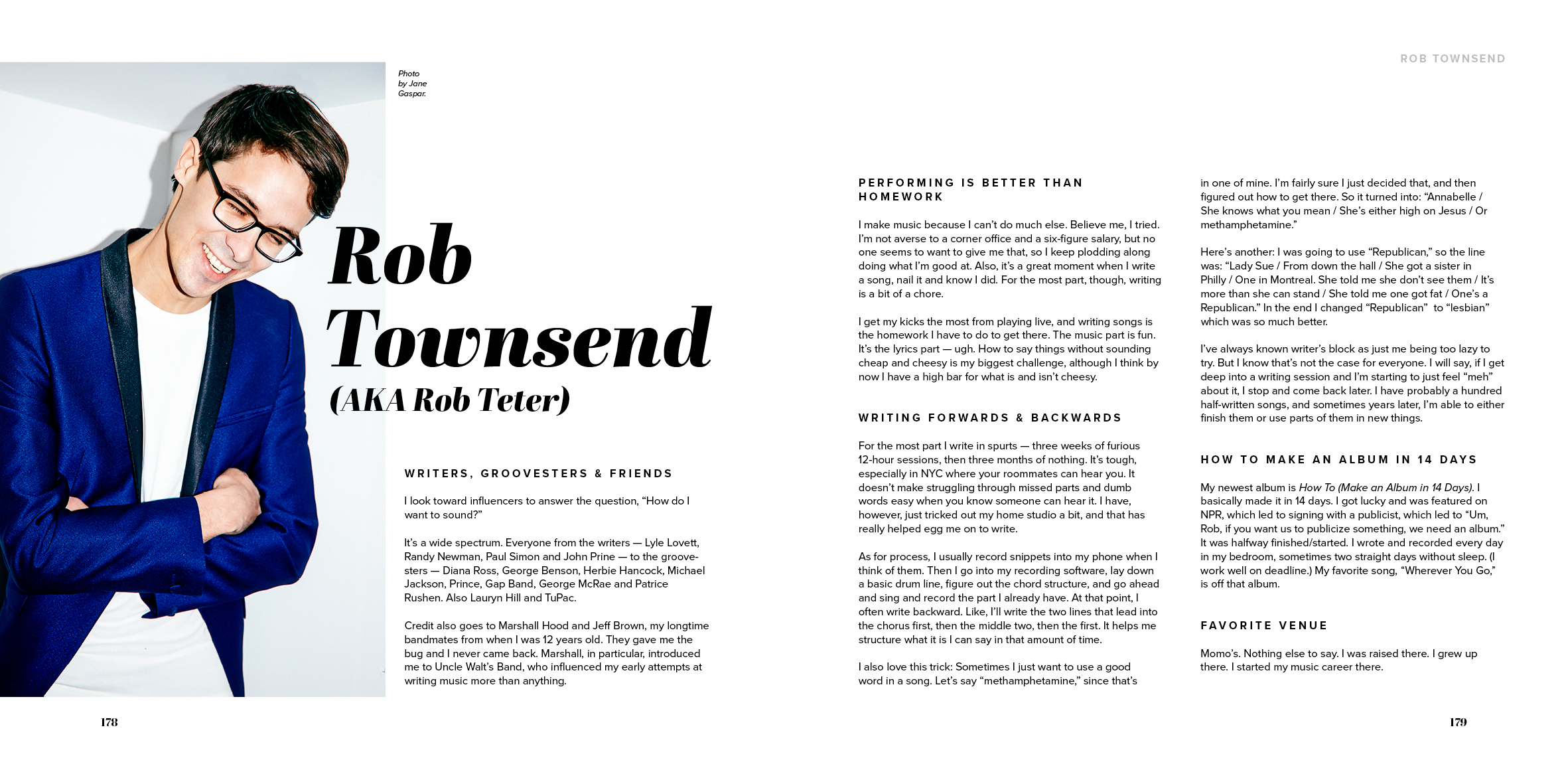 When we interviewed the more than 100 local musicians in Seduced by Sound: Austin, we were curious about what it's like to make music as a career. So we asked: What would you tell someone just starting out? 
They definitely delivered. 
Seduced by Sound is full of dos and don'ts, cautionary tales, and down-to-earth tips from artists who've learned along the way and from some who've been lucky to have supportive mentors. Trust us – if you're a musician or thinking of making music your job, you can save yourself a lot of agony with this book.  
We especially love the agony-saving advice from Rob Townsend, who sings and writes songs but is bummed out by the words "singer-songwriter." (You may know him as Rob Teter, formerly of Austin band the Belleville Outfit.) 
In addition to answering our questions, Rob was kind enough to give us a list of 20 tips that made us laugh more than a few times. Here are five – numbers 1, 4, 7, 8 and 10, to be exact. 

1. "Practice." (This is also #19. He really wants you to practice.)
4. "Do not expect anything from anyone. If you meet some music business big wig, do not ask them for anything. Be their friend and pretend you have no idea who they are. Do this for two years before you ever ask for a favor." 
7. "If you're lucky enough to have a band — like a band with four of your college buddies and they all want to give it a go and you're having some success — DO NOT allow that band to break up. You'll never get that again. From that point on, you hire guys." 
8. "THIS IS HUGE: Learn how to record your own albums. I made my last one in my bedroom." 
10. "Do not make non sequitur statements on social media that are intended to promote your album, show, tour, etc. For example, a photo of a sushi plate and, 'All the guys got together today for a photo shoot and the caterer brought this!! Just in time for our first tour in Japan. Don't forget your tickets!' " 

But, wait! There's more! Rob also shares stories about being on NPR and making his new album, How To (Make an Album in 14 Days), which he made in, yes, 14 days. 
Ready to learn? Get your Seduced by Sound music lessons here.